9 Cute Ways to Style Your Toilet Paper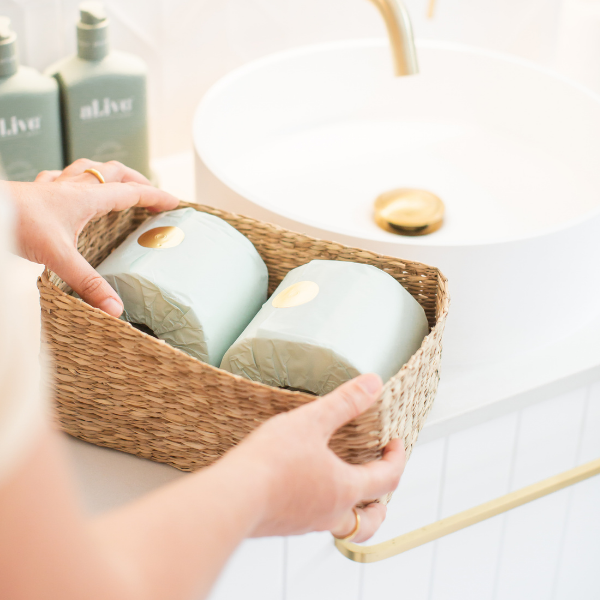 Since, Peekapoo hit the ground running, styling our bathrooms and even our toilet paper has since become a 'thing"! #sincewhen We've put together nine clever ways to style your toilet paper to suit your needs and your space.

1. Portioned, in a basket.
This is perfect for small spaces and boutique accommodation who need a little but not the whole lot. Find a small basket that can house anywhere from 2 to 4 rolls so you can offer your guests the right amount but without over-doing it!


2. In the draw, out of sight.
Surprisingly, draws are a great places to store the toilet paper! #lifehack Usually draws are the perfect depth to hold even just one row, in order and out of sight. Line up your Peekapoo rolls with the gold seal inline to create a stunning view when the draw is opened. 




3. Tucked away in the cupboard.
Sometimes bathrooms say enough without the toilet paper being out on show. Storing them away in the cupboard, colour coded is a cute way to display them even when they are out of sight. 




4. Baskets for the win.
The old faithful. Choose anything from rattan, to wire to wood, baskets make a wonderful way to hold all those cute rolls. Colour cluster your bathroom's unique accent colour or mix them up together. Some baskets are large enough to empty the entire box so you'll know exactly when you're running low!

5. Up high, just in sight.
Floating shelves are great for storing essential items like soaps, pegs and toilet paper. Use Peekapoo Toilet paper to style and balance your shelf even though its up high! 




6. Singular, show stopper.
Again, this is great for portion control in rental accomodation. Singular rolls can balance other styling pieces in a cinch!




7. Not on show at all.
When what you have is enough. That's is all. 


8. Open shelving unit.
If your bathroom is large enough to house a separate unit, we're coming to stay! Create the perfect balance with all your bits and pieces and add some colour.




9. The Stack. 
Just because they're too good not to show off! 

Tag us in your bathroom styling photos, we'd love to see! 
@peekapoopaper #peekapoopaper